PRIOR TO COURSE START
*If you have received a COVID-19 vaccine, we ask that you continue to follow the recommended guidance for fully vaccinated people from the Center for Disease Control (CDC).
*If your course starts on or after September 1st, 2021, all students will be required to be vaccinated for COVID-19.
FOR ALL PARTICIPANTS (regardless of vaccination status):
Participants must notify their course advisor of any underlying health conditions that could put them at increased risk from contracting a communicable disease and check-in with their physician about any additional risks.
Students must talk with their course advisor about travel plans, and submit a back-up plan if choosing to travel via commercial transportation.
If you are unvaccinated, please follow the below practices prior to your course start.
*If your course begins on or after September 1st, 2021, vaccination against COVID-19 will be required to attend your course. If you have question, please contact your course advisor.
Participants must follow strict physical distancing from everyone not in their household for 14 days prior to the course start.
Participants are strongly encouraged to get an FDA-authorized viral test for COVID-19 at least 14-days, but no more than 3 months, prior to course start and submit any positive test results to VOBS.
Participants must obtain an FDA-authorized NAAT test for COVID-19 within 3 days prior to course start and submit a negative test result to VOBS prior to arriving at course start.
TESTING RECOMMENDATIONS & REQUIREMENTS
Testing for COVID-19 is part of Outward Bounds comprehensive plan for minimizing the risk of spreading the virus. It is possible that individuals could have knowingly or unknowingly contracted COVID-19 in the months leading up to their course and then test positive for COVID-19 right before course-start, despite no longer being contagious. For this reason, VOBS has added in a third test to our timeline.
We strongly encourage the timeline listed below. Please reach out to your course advisor with any questions.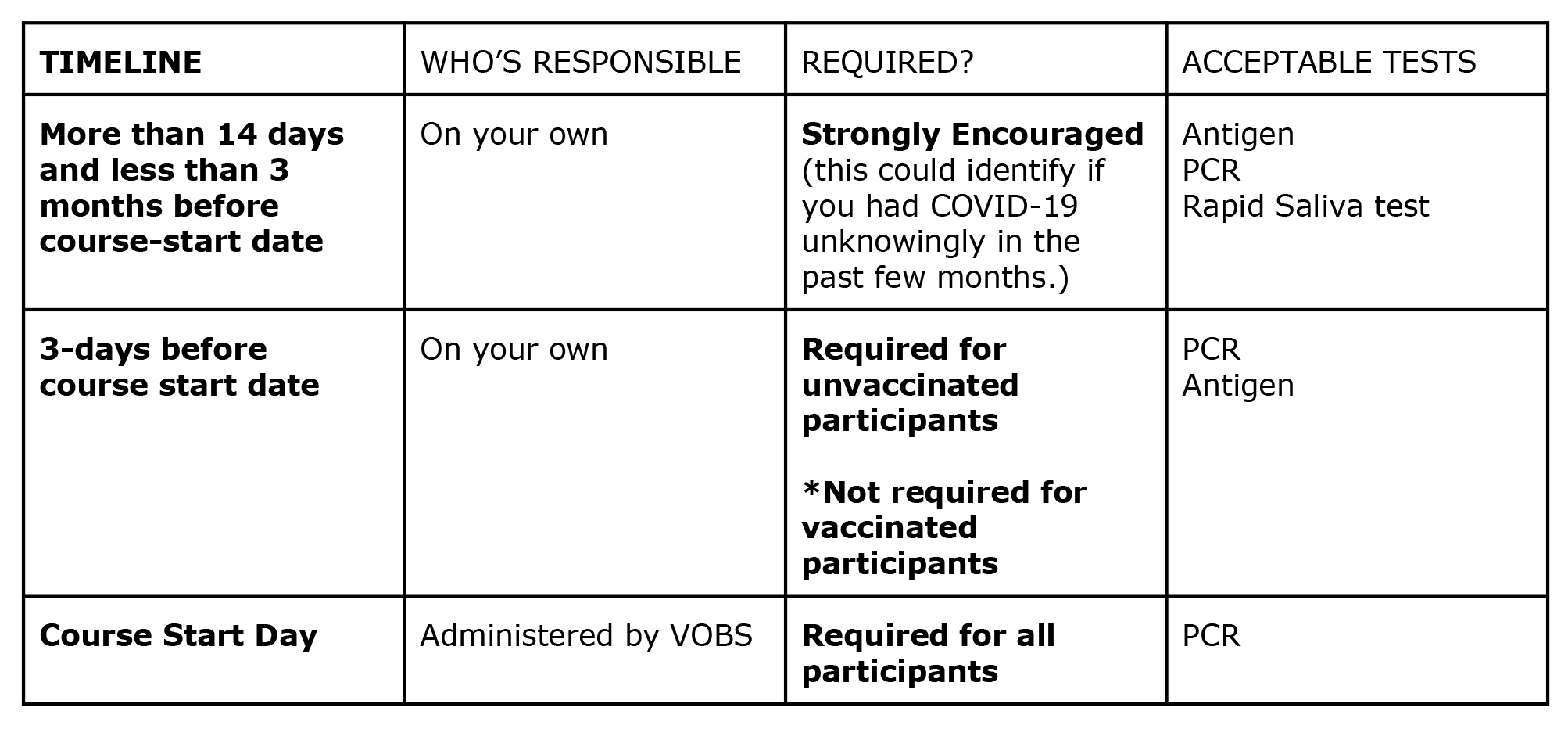 Testing Tips & Access:
Call your local clinic or healthcare provider

CVS Pharmacy's have testing sites nationwide

Check in with your local State Department of Health regarding free testing sites in your area or at-home testing kits that can be sent to your door and mailed back for results (these testing kits are often free)